Salads are often labeled boring, bland, and not filling enough. When I used to hear the word salad I pictured a bowl of lettuce with a few tomatoes, maybe some onions, and too much dressing. If it came down to that or a burger, I would always choose the burger because burgers cure hunger pains and they taste amazing (also life is too short to not indulge on the good stuff). But a salad is more than just a bowl of lettuce. It can be flavorful, rich, sweet and tangy, or spicy, and I was on a mission to find the best salad recipes out there. Turns out, there's more than just one! Here are six of my favorite salads I've found so far:
Balsamic Blackberry Chicken Salad With Fried Goat Cheese 
What you'll need:
2 cup of blackberries (recipe calls for 1 1/2  cups but I like to add a little extra!)
2 tbsp of white balsamic vinegar
2 tbsp of extra virgin olive oil
2 tbsp of honey
2 tsp of dijon mustard
1 tsp of soy sauce
1 large clove of minced garlic
8 ounces of goat cheese
1/4 cup of flour
1 large egg
1 cup of panko breadcrumbs
1/2 pound of chicken breast
6 cups of mixed greens
1 avocado
1/4 cup of red onion
1/4 cup of pecans or walnuts
Salt and pepper to taste
Directions:
To make the blackberry balsamic vinaigrette dressing mix together 1/2 cup of blackberries, white balsamic vinegar, olive oil, honey, mustard, soy sauce, and garlic and stir well. Set aside until salad is prepared.
To make the fried goat cheese, coat each individual ball/slice of goat cheese with flour. Lightly beat one large egg and coat the goat cheese in egg followed by a coat of breadcrumbs. Turn stove to medium heat and fry coated cheese in small amount of oil until they are browned and crispy. Set aside on a paper towel.
Marinate chicken in approximately half of the vinaigrette for at least 30 minutes before grilling over medium heat. If you're like me and do not have a grill, you can toss the chicken onto a pan with some butter and cook over medium heat for 5-10 minutes until chicken is lightly browned then set aside.
To assemble the salad place mixed greens, avocado, red onions, and nuts into a large bowl. Pour dressing over salad and mix well. Garnish salad with fried goat cheese, grilled chicken, and remaining blackberries, mix, and enjoy!
Fruit Salad With Maple Lime Dressing
What you'll need:
2 red apples, cored and diced
2 pears, cored and diced
4 clementine oranges, peeled and separated into segments
3 kiwis, peeled and sliced into thin rounds, then sliced into fourths
1/2 cup of dried cranberries
1 cup of pomegranate seeds
2 tbsp of maple syrup
1 tbsp of fresh lime juice
Directions:
Combine all ingredients into a large bowl except for the maple syrup and lime juice. Toss together.
In a separate bowl, stir together maple syrup and lime juice.
Pour dressing over fruit salad, toss, and enjoy!
Thai Cashew Chop Salad
What you'll need:
4 cups Romaine lettuce, chopped
1/2 head red cabbage, chopped
1/2 cup sliced carrots
1/2 cup edamame, shelled
1 yellow bell pepper, chopped
3 green onions, chopped
1/2 cup cashews (either honey roasted or salted)
1/2 cup peanut butter
2 tbsp honey
2 tsp freshly grated ginger
2 tbsp freshly grated ginger
2 tbsp rice vinegar
2 tsp sesame oil
water to thin
Directions:
To make the dressing, whisk together the peanut butter, honey, ginger. rice vinegar, and sesame oil. If it is too thick, add water until you reach your desired consistency.
Combine romaine, red cabbage, carrots, edamame, yellow bell pepper, green onions, and cashews, pour dressing over mixture, toss, and serve!
Quinoa Tabbouleh Salad
What you'll need:
1/2 cup quinoa
1 cup water
2 cloves of garlic
2 tbsp olive oil
2 tbsp freshly squeezed lemon juice
8-10 mint leaves, finely chopped
2-3 tbsp parsley, chopped
2 green onions
1 cup cherry tomatoes
2 cucumber
Salt and pepper to taste
Directions:
Before cooking the quinoa rinse off then place in pot with 1 cup of water. Turn stove to high and bring to a boil, then simmer on medium heat for approximately 8 minutes until all water has been absorbed and quinoa has sprouted. Remove from heat and set aside to let cool. To speed up the cooling process you can always spread out the quinoa on a tray or large plate and set in the refrigerator.
While the quinoa is cooling, in a large bowl combine minced garlic, scallions, oil, lemon juice, and a pinch of salt and pepper. Dice tomatoes, cucumber, mint, and parsley, and add to mix. Add quinoa, and toss together, then serve and enjoy!
Roasted Beet Salad With Orange and Avocado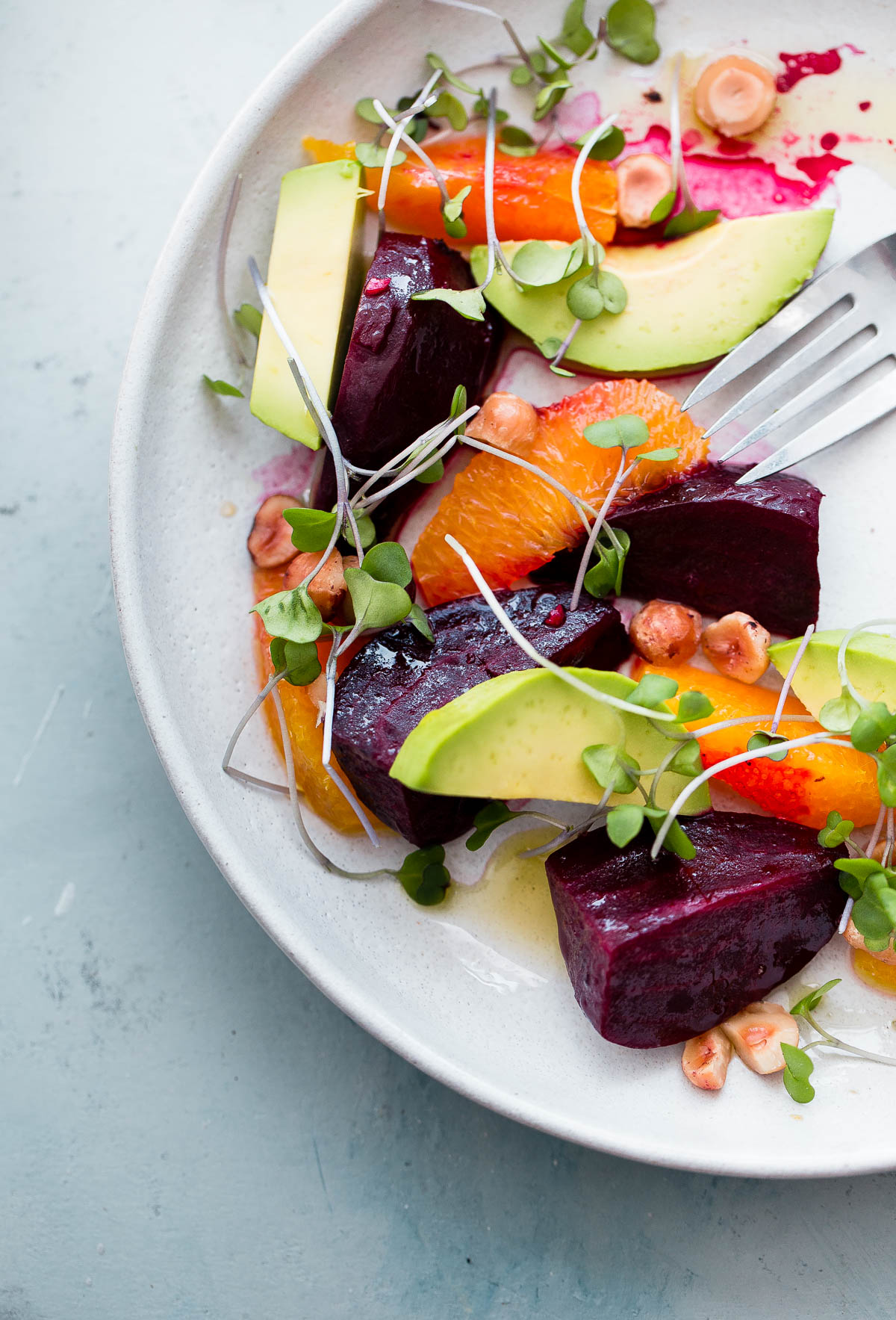 What you'll need:
7-8 small beets
4 tbsp extra virgin olive oil
1 tbsp + 1 tsp of sherry vinegar
2 oranges + 1 tbsp of freshly squeezed orange juice
3 tbsp of hazelnuts, toasted and chopped
1 avocado
Small handful of mixed greens (optional)
Salt and pepper to taste
Directions:
 First, prepare and roast beets by preheating oven to 400 degrees. Trim the beet greens leaving roughly half an inch of stem on the top of the beets (do not remove the roots). Scrub gently with fingertips to clean, and be careful not to remove any of the skin.
Once the beets are cleaned, place beets in a 1-2 inch deep pan and fill with cold water so that beets are half way submerged. Add 2 tbsp of olive oil and sprinkle with a pinch of salt and pepper. Cover pan with foil and bake in oven for 45 minutes to 1 hour. To check if beets are done, insert fork into beet and if there is no resistance, they are done!
Once the beets are fully cooked, remove from oven and set aside in a large bowl to let cool. Once they have cooled down enough to hold them, peel gently with hands and remove roots.
While the beets are cooking, prepare the salad by peeling the orange and slicing it into triangle segments as pictured above. Use the remaining core to squeeze fresh orange juice, which will be used in the dressing.
Next, cut the peeled beets into quarters and mix together with the remaining 2 tbsp of olive oil, sherry vinegar, and orange juice. Spoon the beets onto a serving platter and drizzle the remaining dressing over them. Add the avocado, orange slices, hazelnut, and mixed greens and drizzle with olive oil. Serve immediately and enjoy!
Caramelized Squash, Spiced Pecan, and Pomegranate Ginger Salad 
What You'll Need:
2 tbsp coconut oil
1 acorn squash, sliced in 1/2 inch thick rounds, seeds removed
2 tsp brown sugar
1/2 cup pecans, chopped
1/4 tsp pumpkin pie spice
6 cups arugula
1 avocado, sliced
1 pomegranate
1 cucumber, sliced
1/3 cup pomegranate juice
1/4 cup apple cider vinegar
1/2 tsp freshly grated ginger
1 clove of garlic, grated
1/3 cup olive oil
Salt and pepper to taste
Directions:
Add coconut oil to large skillet and heat over medium. Add squash slices to skillet and sprinkle salt, pepper, and brown sugar over them. Cook for approximately 5 minutes per side until they are browned.
While the squash is cooking, heat a small saucepan over medium heat and add pecans. Stir frequently so all sides brown and coat in pumpkin pie spice.
To make the dressing, combine pomegranate juice, vinegar, ginger, garlic, salt and pepper and whisk together, slowly adding olive oil.
In a large bowl mix arugula, avocado, pomegranate, cucumber, pecans, and squash, add pomegranate dressing, serve, and enjoy!